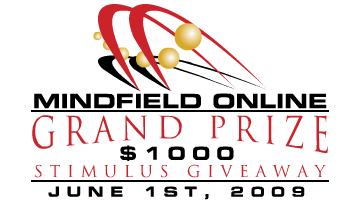 MindField Online will be giving away $1000 on June 1, 2009. Your opportunity to win is easy, simply fill out or update your information on all of the targeted member questionnaires. Everyone you complete or update will be worth one entry into the drawing and put you that much closer to the $1000 grand prize! Remember, the more information you provide, the more paid survey opportunities you will have. It will also limit the number of extraneous invitations you receive as we will have better targeting information for you. The surveys are short and easy so fill them out today. $1000 could be on its way to you this June 1st.
In case you haven't heard
Mindfield Research
here is a
link
we have done some pretty awesome product trials. All members of household have participated in them from Furry to the toddler!
These are my
Mindfield Earnings:
If I win this which is slim to none! I am not sure if it will go towards my son's college fund or the kitchen remodel. Most likely his college fund, because that is just how I am!